Handwriting
We encourage our children to mark make from the earliest ages and to celebrate all that they do.
This may look like scribbling at first but they gradually begin to ascribe meaning to their marks and their marks become more refined and recognisable, eventually forming letter and word shapes.
It is important to encourage a good pencil grip from the earliest age. We ask our parents and carers to teach their children the tripod grip to help their children hold the pencil correctly. There are lots of examples on the internet of how you can do this. We will give you some tips at the induction meeting for new parents/carers too.
Another way is get your child to hold a small tissue with their ring and little finger leaving only the thumb, forefinger and middle finger to pick up the pencil.
Don't forget to model it too - it's great for your child to see you doing what they are doing and a good way to spend quality time with your child colouring, drawing and mark making!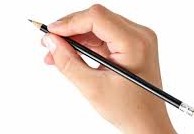 Letter Formation
It is really important to develop the correct letter formation which will enable the children to then learn cursive script (joining letters) which we start teaching from Year 2.
Here is our basic letter formation we teach in Nursery, Reception and Year 1 before our children begin learning the early joins in Year 2.
lower case handwriting formation sheet.pdf