Welcome to the Year 2 Learning Page!
Over the next few weeks while you are not able to be in school this page will be used as a platform for learning. Please visit it every day and do the work set.
A suggested timetable for you:-
9.00 - 9.45 - work on spellings both key words and spelling pattern work from red spelling book
9.45 - Have a break
10.00 - 10.45 - English lesson
10.45 - Snack time
11.00 - 11.45- Maths lesson
Lunchtime
1.00 - 2.00pm Work on the RE story/ History Project/ Reading comprehension/ Art/DT activities/ Purple Mash computer activities
Snack time
Exercise - try one of the exercises in the PE section
2.30- 3.25pm - Colouring/painting/ building with Lego/ baking/ Playdough modelling/ gardening etc
REMEMBER THIS IS ONLY A SUGGESTION AND YOU CAN ADAPT TO MAKE IT WORK FOR YOU!
In RE we will be learning about
Easter
Click on the link below for the story.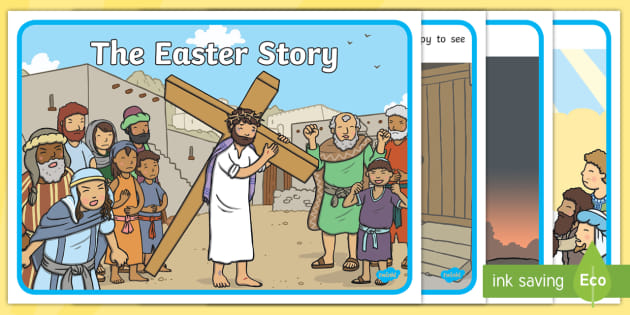 Can you retell story in your own words? You can do a cartoon strip or use pictures to help.
You have learnt a new lunchtime prayer. Can you teach it to everyone in your family?
DT
Linked to our English work this week. Try one of these activities. Ask your family what type of things they like in their sandwich/ salad.
Design and make a healthy sandwich

Design and make a healthy salad

! (Ideas above)

Follow a recipe- looking carefully at the words used
Edward, Anya, Mia, Ava, James, Ciara, Lucas and Olivia have already been busy today! What are you going to design and make?
Art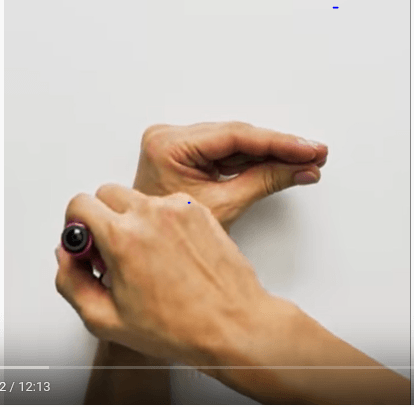 Try learning how to draw different animals using your hand. I can't wait to see the creatures you create!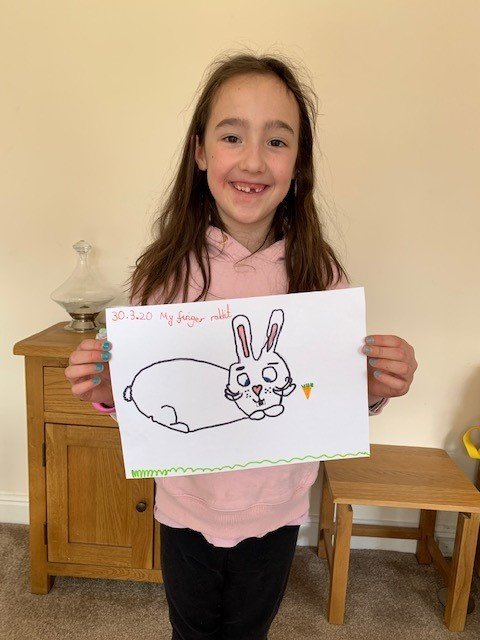 Activity 2
Another Art activity to try
Look at the work of Andy Goldsworthy who creates art using natural materials. Why not use this idea to create your own picture using a natural materials you can find in your garden?
Here is a lovely picture of Edward with his stay safe picture using natural materials!. Well done

Lots of you are enjoying drawing! These are from James, Matthew, Edward and Lucas. While Ava and her sister made a lovely Thank you sign for the NHS!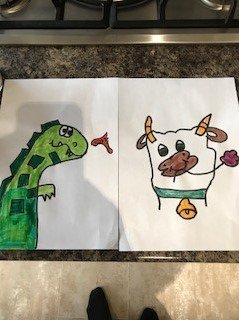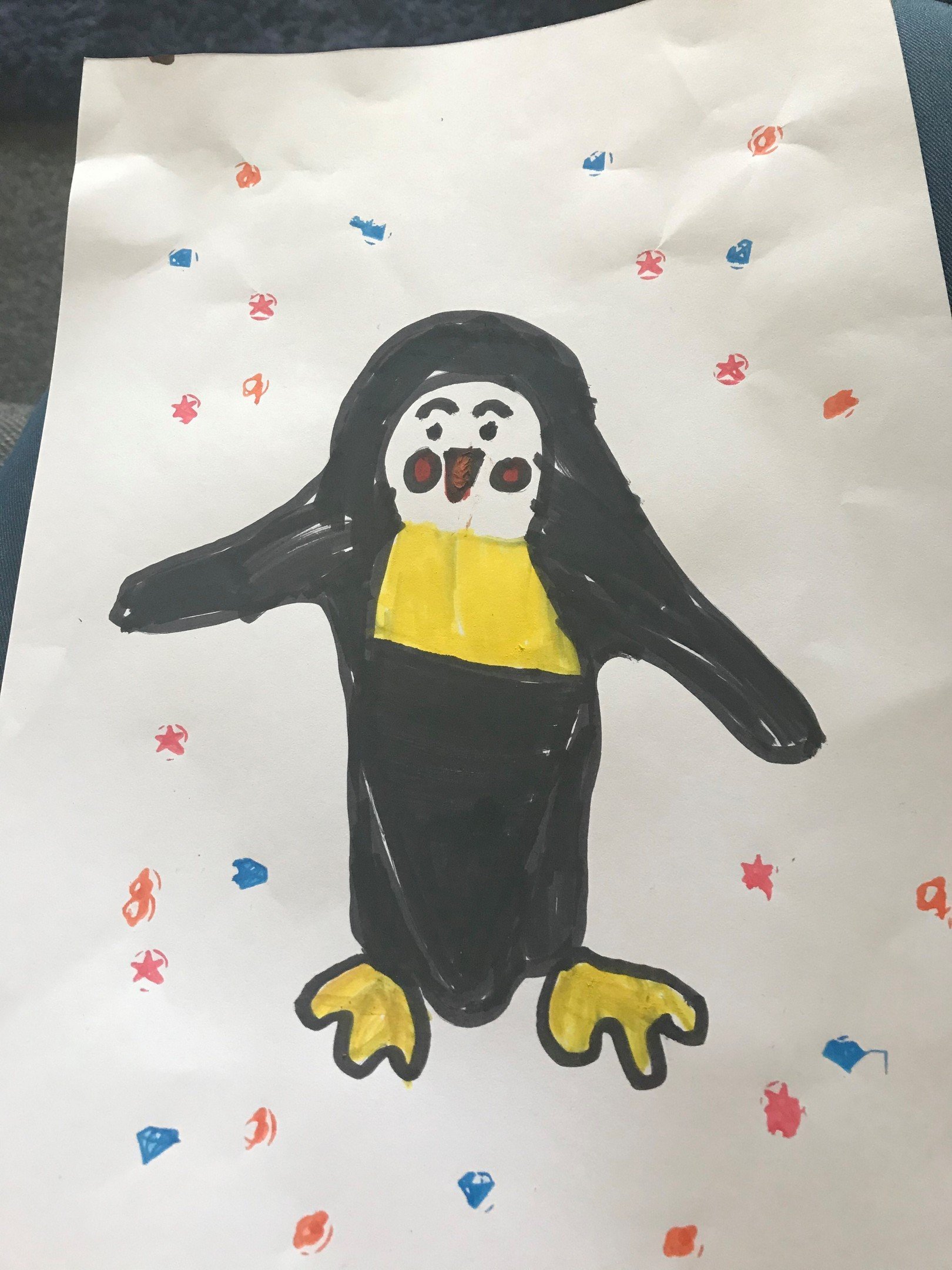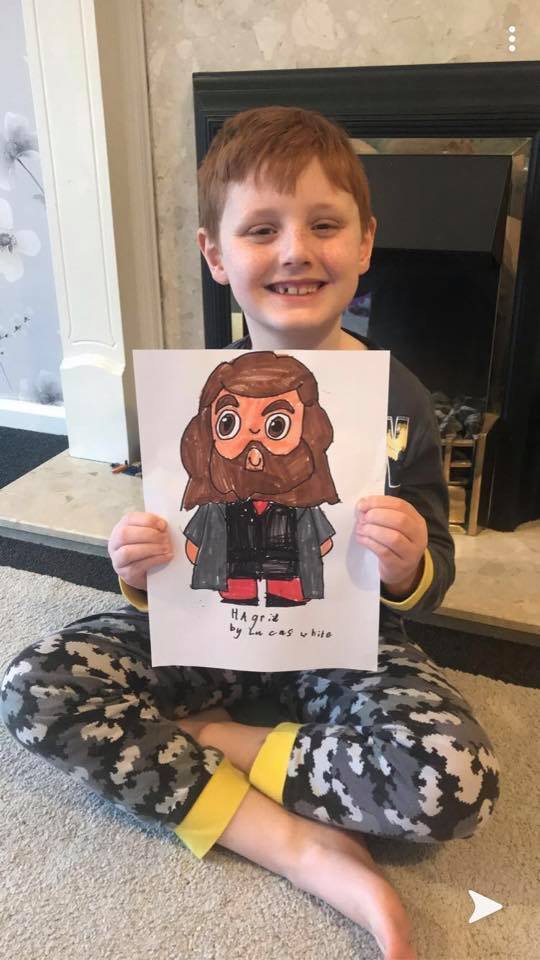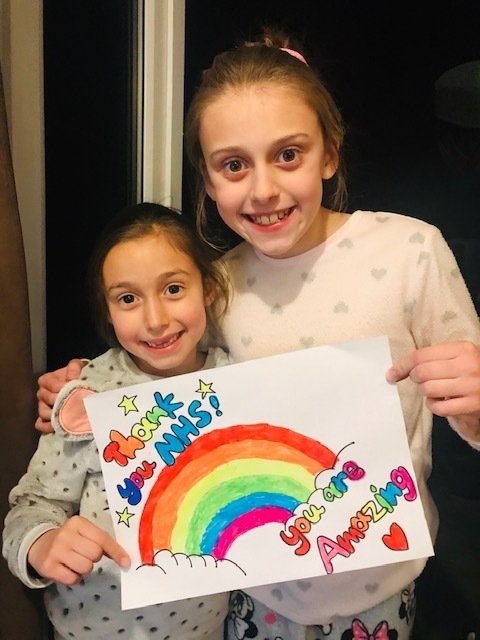 History
Mrs McVeigh would like you to work on a little project over the next few weeks. Can you find out lots of facts about a famous local person? (ideas are - Percy Shaw, Anne Lister, The Bronte Sisters, Sir Titus Salt or another famous person West Yorkshire person!
You can make a leaflet or a fact file but make sure there is a content page, pictures and as much information as you can about the person - in your own words!
Olivia sent a video of something that would be fun for you all to try with your drywipe pen. Top tips from Olivia, go over the lines a few times, make sure the ink is dry and use cold water. Thanks Olivia. Have a go!
Our Class Charity
Our class charity is the RSPCA. We will make sure that the money raised will be taken to the Halifax branch when we are back at school.

Contact me!
Please email completed work to the following email address:
c.slack @st-josephs-brig.calderdale.sch.uk.
I will be expecting to see work from everyone as well as hearing your news!
Keep up the great work Year 2! You are really impressing me with all of your hard work!
Week 2 - Instructions
Day 1 - Read the examples of the instructions. Make a list of all the bossy words use- words that tell you to do something, cut, get , pour, add etc
Day 2 - Can you improve these instructions to make them bossy? Instructions to improve
Try to read up to pg 30 either to yourself or with a parent- click the picture to read!
Day 3 - Read to page 30 and see what George put into his marvellous medicine! Can you make a list of 10 things he put in? Also write down any vocabulary or phrases used in the story that you think are exciting!
Day 4 - If you made a marvellous medicine like George, what would your marvellous medicine do? What would you put in it? Write down what special power your medicine gives you and what you would need to use to make it!
Week 1 - Traditional Tales.
Day 1 - Read the story and write a description of the forest Little Red Riding Hood walked through. Remember to use lots of exciting adjectives. Also try to add in some similes - 'Leaves that crunched like crisps as she walked
Day 2- We are continuing work on different sentence types
Now see if you can identify the different sentence types
Day 3 - Today I want you to write your own different sentences types that you could use in your Little Red Riding Hood story which we will start tomorrow.
Remember I want you to write 4 of each type of sentence :- Command, Statement, Question and Exclamation.
Day 4 /5 -
Over the next 2 days I want you to write your own version of the story of Little Red Riding Hood. Remember to think about the language you use, including adjectives ( use some of the description of the forest from Monday).
Use your writing check list to make sure you are including all the different things you need. Especially conjunctions which you often forget! I also want you to include some of the different types of sentences from yesterday.
Don't forget to use your purple pen to go through your writing, checking for key word spellings and punctuation.
Comprehension
Every week I will set a new comprehension task. This is something you can complete on your own! There will be 3 differentiated tasks so pick one that will challenge you.
Reading
Everyday I want you to spend time reading. Let me know the books you have read and if you would recommend it to your friends.
Enjoy sharing a book with someone at home and don't forget to find exciting words you can use in your own writing!
I know lots of you love David Walliams stories. Follow the link to listen to a free audio book everyday at 11am.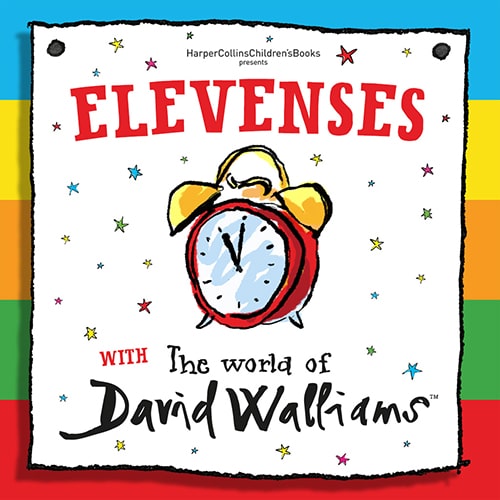 Week 2 key spelling words for the week are

Keep learning the words all week and then test yourself to see how many you get right.
Can you write the words in sentences correctly?
KEEP PRACTISING THESE WORDS ALL WEEK!
Try to test yourself on the words today. Can you get them all right?
Our Spelling pattern for this week is - le at the end of words as in rattle
Please complete unit 8 in your book this over this week
Ask someone to pick SPEED SPELL WORDS for you from the spelling patterns we have already worked on.
Dictation sentences are on page 54-55 at the back of the book
Remember JUMPING RED WORDS are any of words key spelling words.
Animal in your living room!
Something fun to try. On an iPhone or Android phone open up Google Chrome type in one of the animals below and scroll down and click view in 3D to have an animal in your living room! It would be great if everyone sent a photo with an animal! This is a tiger in Ciara's garden!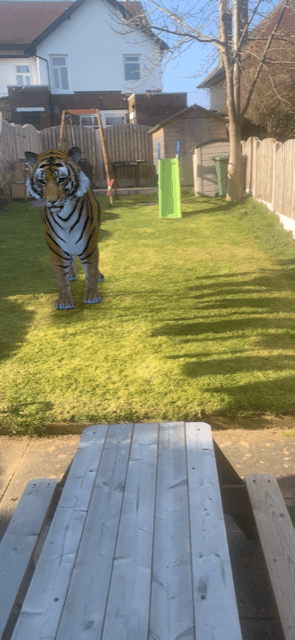 Alligator, angler fish, brown bear, cat, cheetah, labrador retriever, pug, rottweiler. duck, eagle, emperor penguin, giant panda, goat, hedgehog, lion, macaw, octopus, racoon, shark, Shetland pony, snake, tiger, turtle, wolf.
Here is Matthew with a panda, Barney with a tiger, Anya with a hedgehog, Matilida and her sister with a penguin and Ellie met a lion at school! While Mia had a visit from a cuddly teddy!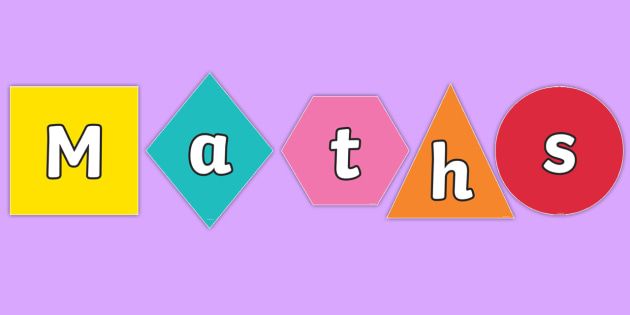 Everyday there will be some key skills questions to practise at the start of the power point and some challenges at the end.

Purple Mash - Week 2
There are also activities which I have set for you to do on Purple Mash - 2Do. Your username and password was in the pack sent home on the last day.
PE
Remember it is important to keep active. Do one of these Joe Wicks activities
Remember Joe Wicks does a new exercise every morning on his You Tube page.
Ciara has also been exercising using Cosmic Kids Yoga. Isabelle , Ava and Ellie are enjoying starting the day with some exercise!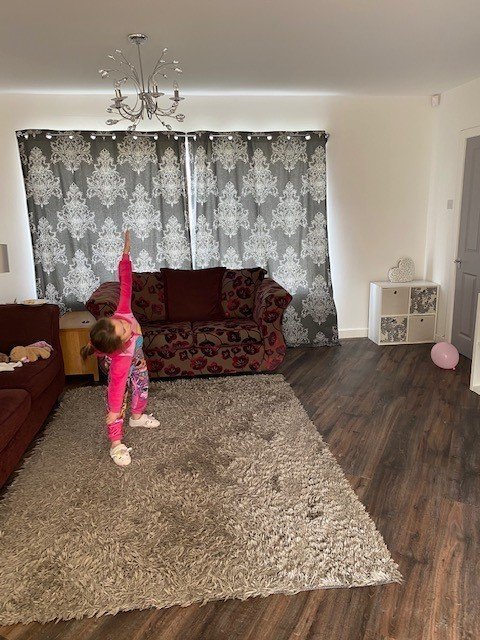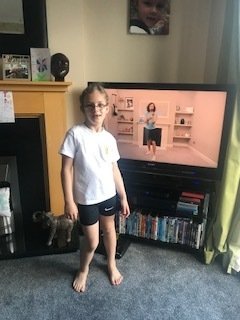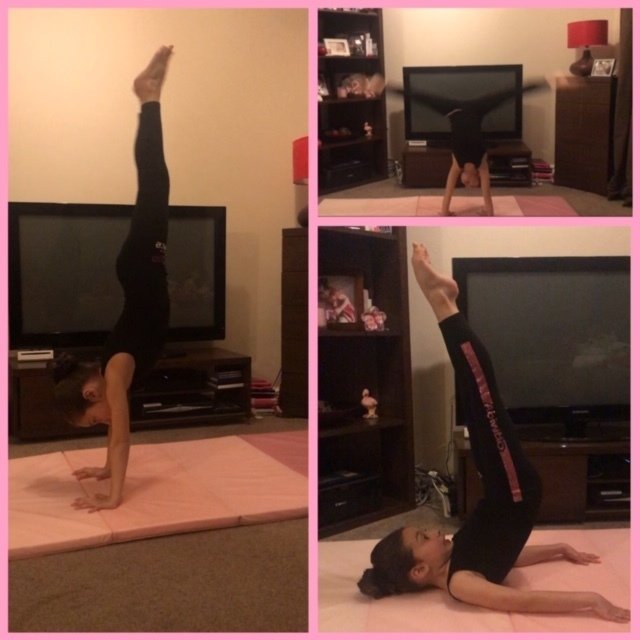 Ciara has been busy practising her gymnastic skills too!
Fun at home
It is lovely to see you having some fun in the sun and doing lots of lovely things like baking and playing.
Over the next few weeks it is a perfect opportunity for you to practise the 7 Habits!
It will really help your parents!
It has been great to see so many of you using the 7 Habits at home. Well done Year 2. Try to keep it up!
This week look for opportunities to make emotional deposits to people in your family!
James has been helping his mummy baking and also with cleaning the house, What can you do to help?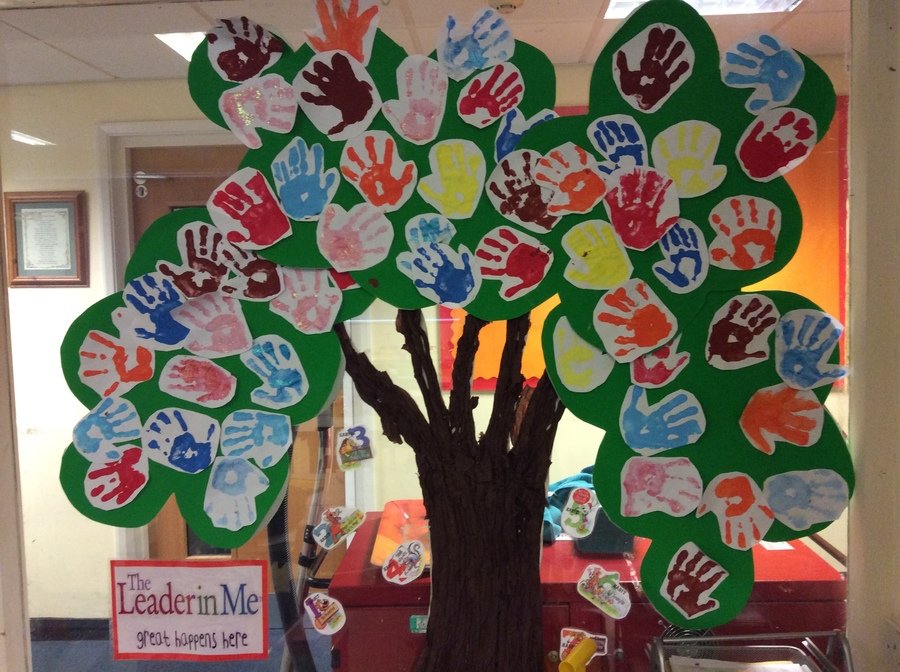 Our 7 habits journey.
Habit 1 - Be Proactive
Habit 2 - Begin with the end in mind
Habit 3 - Put 1st things 1st
Habit 4 - Think Win/Win
Habit 5 -Seek first to understand, then to be understood
Habit 6 - Synergize - working together
Habit 7 -Sharpen the saw
Let's see your signs of Spring!
Look for signs of Spring in your garden or when you are outside for exercise. How many signs can we find?
Edward went for a walk and saw …..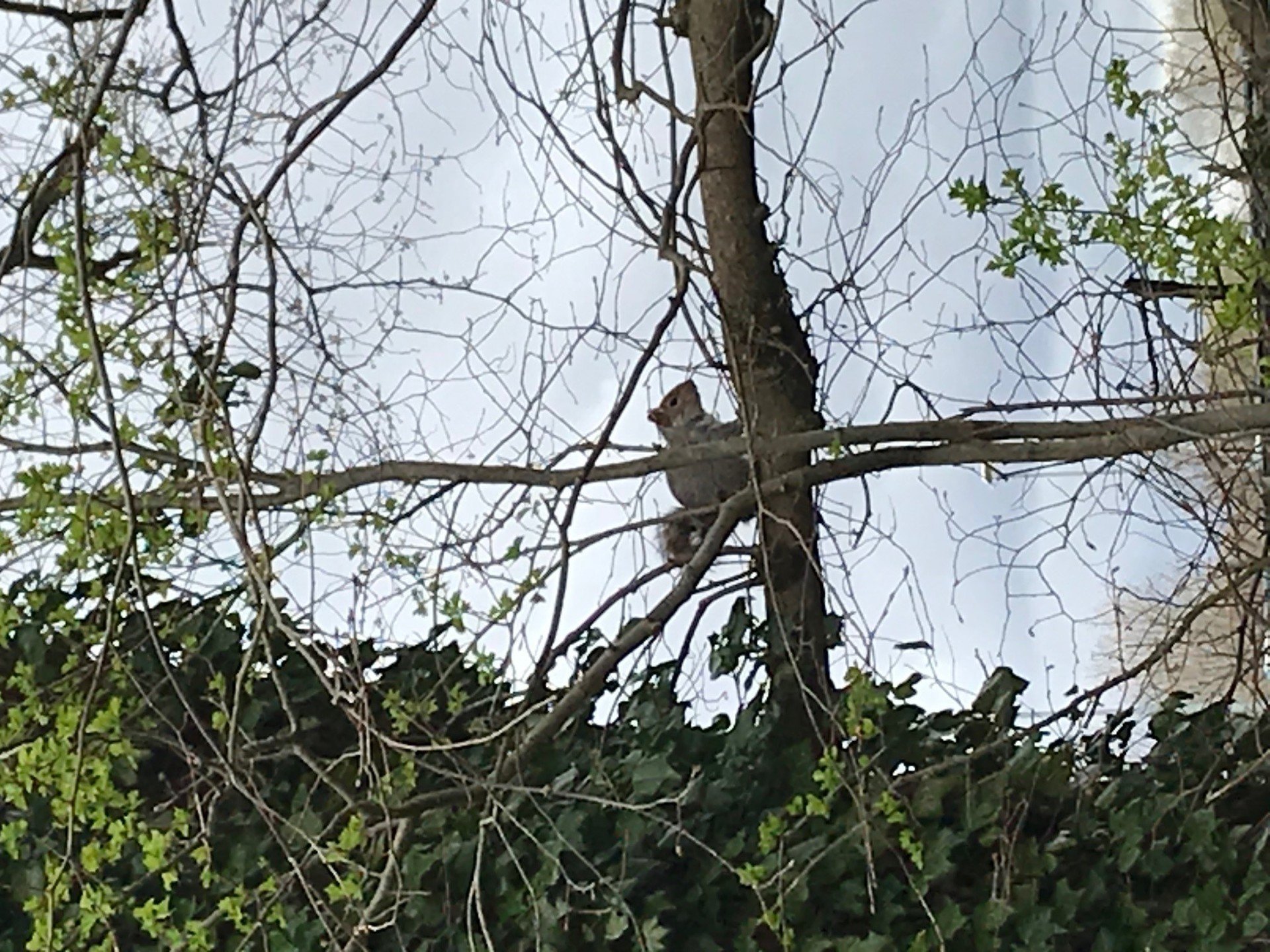 Year 2 had a visit from Safety Seymour who taught us all about carbon monoxide. Look out for him visiting your home soon! - Don't worry if you have not had Seymour yet. I am sure he will be ready to start visiting again when we are back to normal.