Come and have a look at what's going on in our Nursery.
It's where the fun begins!
Our Nursery Team are:
Mrs L Lloyd - Teacher
Mrs R Acheson and Mrs K Normanton - Nursery Nurses
Mrs G Howgate Support Assistant
If you wish to contact Mrs Lloyd please email l.lloyd@st-josephs-brig.calderdale.sch.uk
NURSERY UNIFORM
There is no compulsory uniform for our Nursery children, however we strongly recommend our parents/carers send their child in: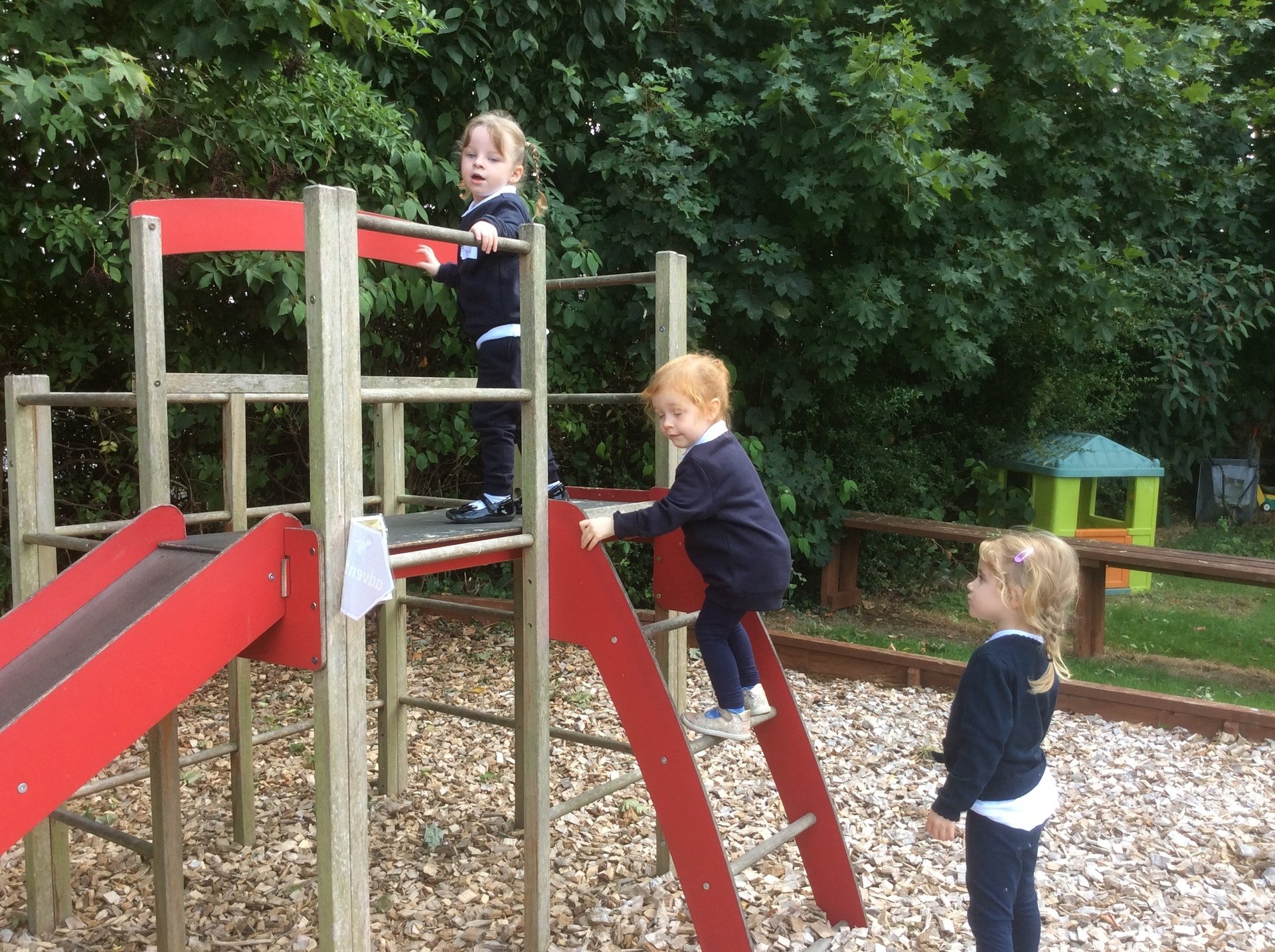 · dark blue jogging bottoms
· white polo shirt
· dark blue jumper/cardigan/sweatshirt
· white socks
· sensible trainers or shoes (no sandals/open toed shoes – bear in mind they will be climbing)
· waterproof coat
Have a look below at some of the exciting activities we have been doing .
TOPIC

SPACE




This interest provides ideas for stimulating children's curiosity, understanding and imagination about space and our solar system and enquire about what life would be like on different planets. This half term we will be rocketing off into space and going on a space adventure through our solar system. We will be exploring differences and similarities and discovering places in space and in our own world. Our role play area will become a space station and we will investigate how it would feel to be an astronaut.
This half term we will be:
Finding out about Space and asking, what is space ?

Taking a journey through space and exploring our solar system.

Building rockets and creating a role play space station.

Talking about other ways of life and investigating similarities and differences.

Welcoming six new starters, helping them to get to know their new friends and showing them the routines, rules and daily activities of the Nursery.

Collecting questions that we want to explore through our new topic.

Talking about our own ideas about space, finding out what we already know and what we would like to find out.

Reading the story of Billy Bean's Dream by Simone Lia as an opening to our topic.

Reading The Big Beyond by James Carter and Aaron Cushley to learn about the history of space travel.

Reading Aliens Love Underpants by Claire Freedman and Ben Court to encourage listening and joining in with rhyming words.

Exploring routes and looking at world maps and different places in our world.

Finding out about different foods from around the world.

Exploring differences and similarities of people and cultures around the world.

Recalling and retelling familiar stories and sequencing pictures from those stories.

Practising writing our names, familiar words and other simple words to do with the topic.

Counting, recognising and using numbers 1-5, 1-10 +

Learning new songs about space and making up movements and actions, using instruments to accompany our work.

Using large and small construction and reclaimed materials to build models of rocket ships, aliens and spacecraft.
Summer Term
IMPORTANT EVENTS THIS TERM
This term we will be welcoming six new starters.
A big warm welcome to Finley, Sophia, Jack, Liam, Savannah and Edward !
We know you will have a fantastic time with all your new friends.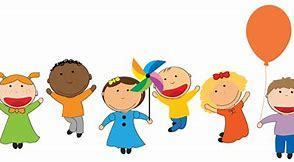 Read together
Books
Check out some of the books we will be looking at this term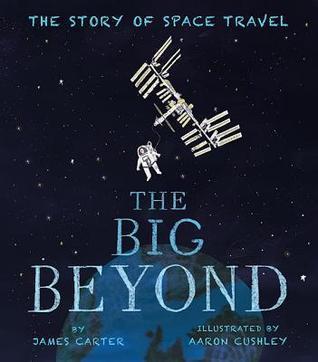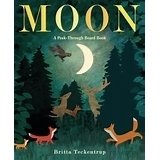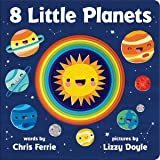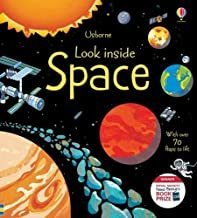 and also these..........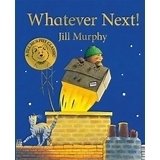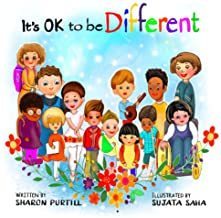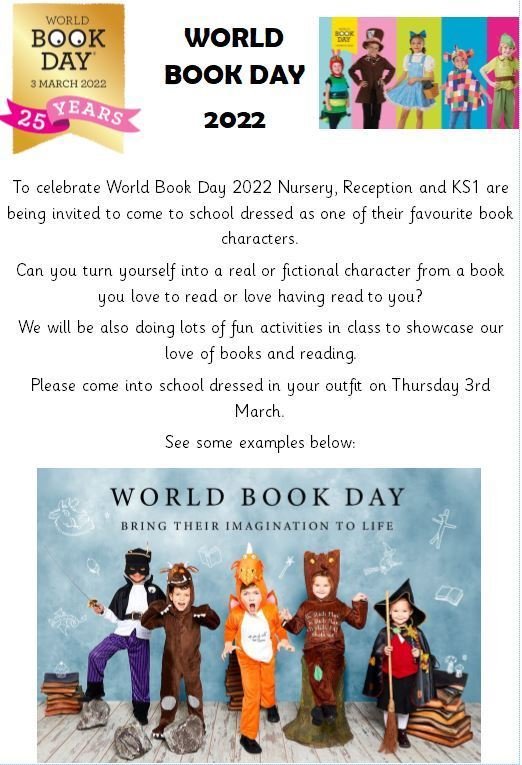 Look at our pictures below . Can you work out who we dressed up as for
WORLD BOOK DAY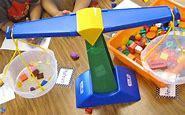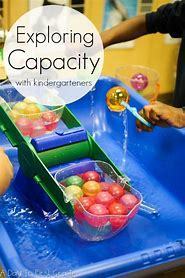 Magic Maths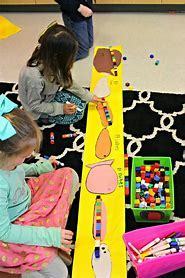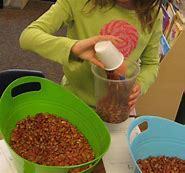 This term we will be exploring counting and numbers.

Linking numbers to amounts.

Counting objects 1-5, 5-10 and knowing that the last number said is the total amount.

Using numbers to solve pratical problems.

Making marks to represent numbers.

Talking about how numbers are made up of smaller numbers.

FUNDRAISING Our class charity is SENSE
Sense is a national charity in the United Kingdom that supports and campaigns for children and adults who are deafblind.
Watch this space for fundraising ideas.
The Seven Habits
Here

is a

reminder

of our

Seven Habits

.
Habit 1

Be Proactive

Remember

to always do the right thing :-)
Practise the Be Proactive Song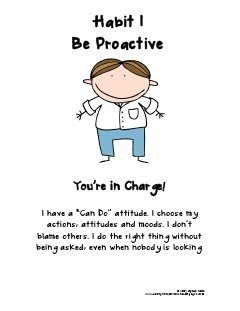 Our Emotional Bank Account
Our Happy Class Family Board - being kind to each other, doing kind deeds and helping others. When we do something kind and helpful we add a heart to our happy class family board.
Leadership Roles
We will begin working on our leadership roles where we will take it in turns to have an important role during the Nursery day. These jobs will incorporate classroom areas. Our special job this term will be helping our new friends to settle into Nursery.
Habit 1 Be Proactive
Habit 2 Begin with the End in Mind
Habit 3 Put First Things First
Habit 4 Think Win Win
Habit 5 Seek First to Understand then to be Understood
Habit 6 Synergize
Habit 7 Sharpen the Saw
LIBRARY DAY

is

Thursday
Don't forget to let your child choose a book and you can enjoy it together at home. A big thank you to all the parents who have kindly donated books to our library, this wonderful resource would not be available without your constant support. If you haven't donated a book and would like to, please talk to a member of the Nursery Team.
Due to the Covid virus parents will not be allowed into Nursery. Please hand your library book in on THURSDAY MORNING, a staff member will change your child's library book with them and return it with their weekly work at the end of the school day. Thank you.
BOOKS, BOOKS and more BOOKS ..........reading is the best !!!
Please try and read with your child daily. We try to foster a love of books and stories in the Nursery and your child will gain so much from having you read with them and show them that books and reading is important and enjoyable.
We LOVE books!
KIND REMINDERS
So your child has as much fun as possible and gains as much independence as possible, please remember ;
Dress your child in clothing and coats that they can manage themselves

Sensible footwear, no sandals, flip flops, crocs or open toed shoes

Trousers or shorts to be able to access roktagons and outdoor climbing

No expensive clothing or coats they will get dirty

Wellingtons in winter or wet weather- you can leave labelled wellies at Nursery

NAME LABELS IN ALL CLOTHING

- WE CANNOT FIND MISPLACED CLOTHING IF IT HAS NO NAME

Encourage your child to become independent in using the toilet, it boosts their confidence and self esteem and gives them independence in the Nursery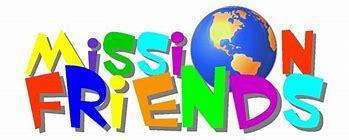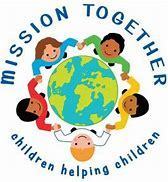 God asks us to
be the best version of ourselves.
God asks us to
try our best and keep everyone learning.
God asks us to
keep ourselves and others healthy and safe.
God asks us to
accept everyone.
God asks us to
look after others and the world around us.
Let us
Love, Learn and Live in Christ!
VIRTUES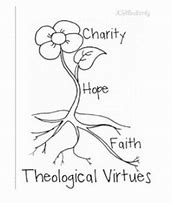 VIRTUES

This half term we are practising the virtue of Perseverance and Resilience
I persevere and am resilient when
I don't let doubts stop me from trying

.

I am not afraid because I know I am not alone.

I ask God to help me grow through my personal challenges.

I take one step at a time - I keep going.

I complete what I start.

I am a reliable classmate.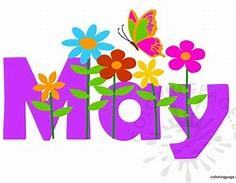 May Devotion

On Tuesday 3rd of May let your child bring in a flower.
Phonics Focus
This half term we will be revisiting body percussion, rhyme and rhythm and using voice sounds
We will :
D

evelop an awareness of sounds and rhythms and rhymes.

Distinguish between sounds and remember patterns of sound.

Increase our awareness of words that rhyme.
We will continue with alliteration for those that are ready.
Listening to sounds at the beginning of words and hear the differences between them.

Exploring how different sounds are articulated and extending children's understanding of alliteration.
Help your child to begin to recognise their name. Begin to look at the initial letter of their name, what sound does it make. Talk about other things that start with the same sound.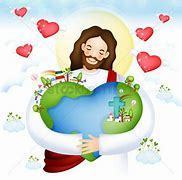 The Way the Truth and the Life
This term our RE focus is New Life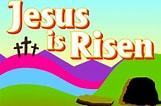 "Jesus' life, death and resurrection are the central event of all human history and at the heart of faith"
Religious Education Curriculum Directory
This half term, the children in the Nursery will be learning about new life. They will learn about the story of the empty tomb, and learn that Jesus appeared to his disciples. The children will begin to understand the special gift of joy and peace that Jesus gave to his friends (John 20: 19-21) and can give to us as well. They will hear the story of Jesus going back to his Father and learn that one day we shall hopefully go there too.
We will:
Begin to understand that we celebrate Easter because Jesus rose from the dead.
Be aware that at Easter we celebrate Jesus is with us.
Begin to understand that Jesus gives a special gift of joy and peace.
Think of how we can give this peace and joy to others.
Begin to understand that Jesus is alive and will always be with us.
Be aware that we can always speak to Jesus.
Know that Mary is the mother of Jesus and our mother.
Think of ways to show our love for Mary.
Key vocabulary
Jesus Easter Sunday Alive Good News Peace Joy Appear Friends Spring New Life
Forever Mary Mother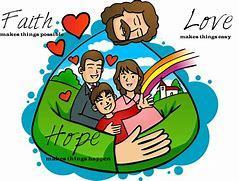 At home you could help your children by
• planting an Easter garden
• looking for signs of new life
• practise the Sign of the Cross, 'Our Father' & 'Hail Mary'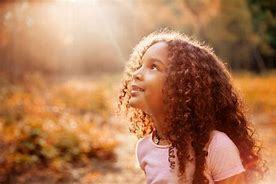 Take some time for Peace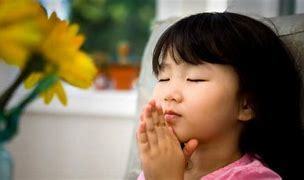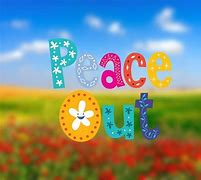 Cosmic Kids Try this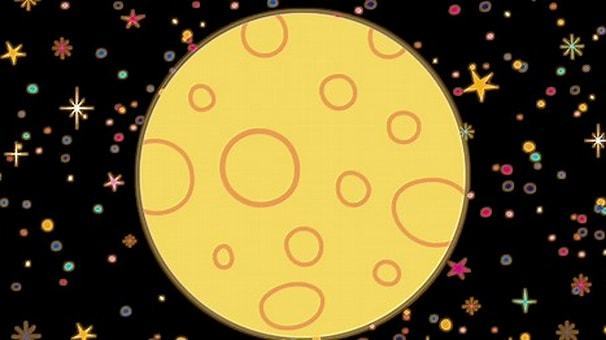 Moon and Stars Meditation
PARENTS AS PARTNERS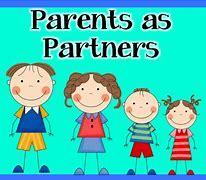 Helping your child at home
This term you can help your child in the following ways
Most children are now able to put on and fasten their own coats. Please continue to encourage your child with self- help skills to increase their independence.

• Encourage them to practise putting on and taking off their own shoes.
• Use the internet with your child to explore space and our world.
• Read rhyming stories and sing rhyming songs with your child to encourage them to notice words that rhyme.
• Play I spy to encourage your child to listen for initial letter sounds in words.
• Read stories and encourage your child to talk about what happened in the story and answer questions, Who? What? Where? When? Why?
• Continue to practise counting, number recognition and begin to help your child to understand that an amount of items can be represented by a number. Encourage them to match a numeral to an amount and begin to notice number patterns.
• When out and about with your child, encourage them to notice familiar logos in the environment.
• Offer lots of opportunities for drawing, colouring, mark making and 'writing', if your child is showing an interest in writing their name and simple words, write words clearly with correct letter formation for them to copy.