As a worshipping community, we actively encourage our families to worship together at home. We have a programme of school- home worship which reflects the Liturgical Year supporting our parents/carers in worshipping with their children at home.
The feedback from both parents and children is always very positive!
We focus on different virtues each term as part of our Character Education which is supported by our Leader in Me programme.
You can find out more about the Virtues we study by clicking on the Virtues tab in Catholic Life.
All the Virtues underpin our worship throughout the school year which of course is linked to the Liturgical year!
Scroll down to see the kinds of things we do each term!
Our new academy year begins with Mass for the whole school family. It is a wonderful opportunity to mark the start of the year as a community as we worship together.
Each class came into the hall during the first week and shared a worship together. During the worship they each placed a coloured ribbon on the tree to represent an individual prayer for the year. Every time they see the tree they will remember their prayer.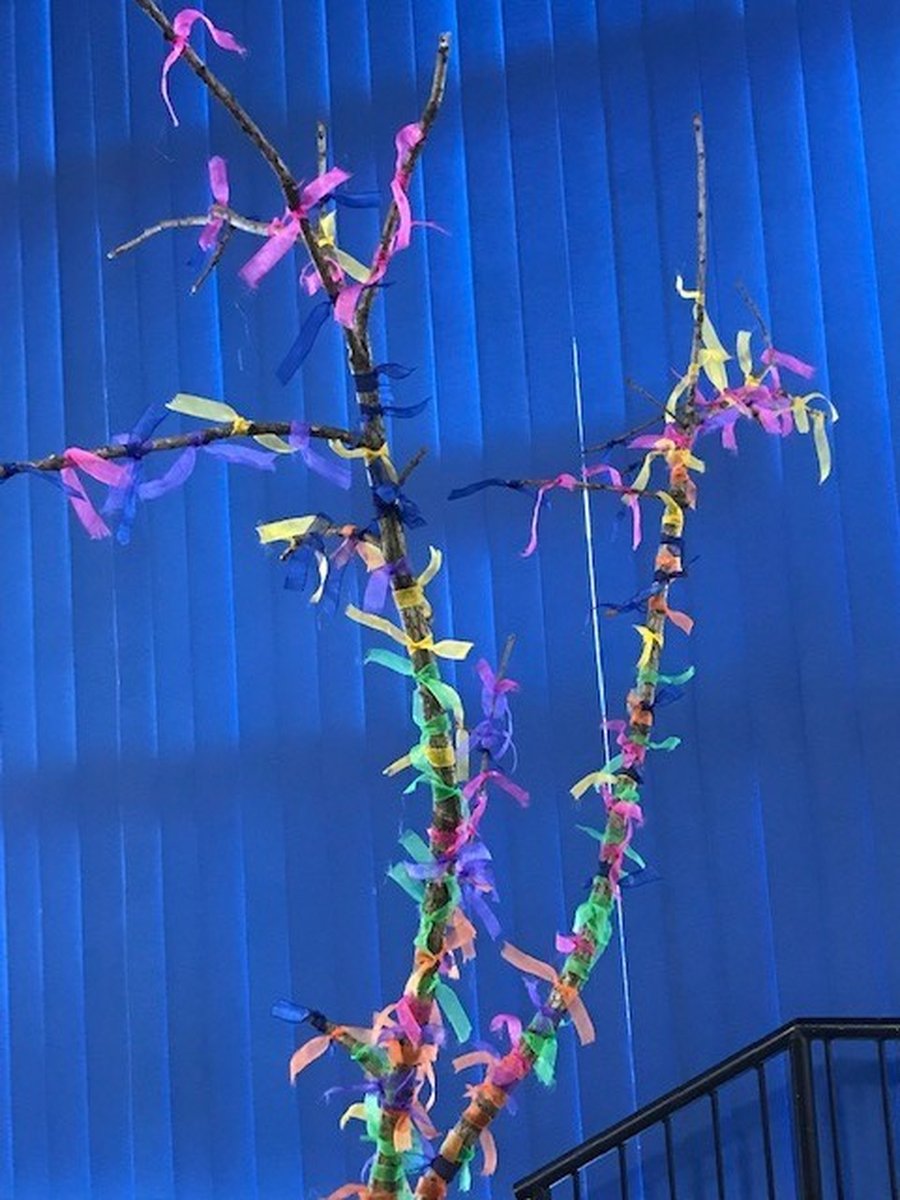 Our Staff and Governors come together each September to worship together and pray for the school year ahead. We light candles and promise to try and bring the light of Christ in our lives every day.
During the month of October we hold voluntary rosary at break time led by our Year 6 children, where we gather to say a decade of the rosary together. We also take home the rosary worship bag so we can pray a decade of the rosary with our families at home.
We held our Harvest Festival and collected lots of tins and packets of food for the needy and housebound of our parish. This is a wonderful opportunity for our community to come together to show our support for those in need.
During the month of November we created a Wall of Remembrance and collected prayer petitions from staff and our families for loved ones who had died. We also remembered those who had died giving their lives in service. We offered our prayers for them all.
Each day in school begins and ends with a prayer (see opposite) and of course we pray at other times of the day too. Reception and KS1 gather, as do KS2, to worship together, This is led by Mrs Hodges our Headteacher, with the support of some of the children. The worship is based around a piece of scripture which reflects the particular Virtue we are focussing on. A display in the hall builds up over the weeks helping us to make links between Bible stories and pieces of scripture.
At least once a week a small group of children in each class will plan and lead a worship for their own class. The younger children are supported by the staff but as they grow in both confidence and skill they become independent in doing this. Their class worship reflects and reinforces the Virtue we are focusing on as an academy.
Morning Prayer
O my God you love me, you are with me night and day.
I want to love you always in all I do and say.
I'll try to please you Father,
Bless me through the day. Amen.
Prayer before Dinner
Bless us O Lord as we sit together; bless the food we eat today.
Bless the hands that made the food; bless those who have no food;
Bless us O Lord. Amen
End of Day Prayer
God our Father I come to say, thank you for your love today.
Thank you for my family and all the friends you give to me.
Guard me in the dark of night and in the morning send your light. Amen.