As a worshipping community, we actively encourage our families to worship together at home. We have a programme of school- home worship which reflects the Liturgical Year and supports our parents/carers in worshipping with their children at home.
The feedback from both parents and children is always very positive!
We focus on 2- 3 virtues a term as part of our Character Education which is supported by our Leader in Me programme.
You can find out more about the Virtues we study by clicking on the Virtues tab in Catholic Life.
All the Virtues underpin our worship throughout the school year which of course is linked to the Liturgical year!
Scroll down to see the kinds of things we do each term!
Each day in school begins and ends with a prayer (scroll down for the prayers) and of course we pray at other times of the day too. Reception and KS1 gather, as do KS2, to worship together, This is led by Mrs Hodges our Headteacher, with the support of some of the children. The worship is based around a piece of scripture which may reflect the particular Virtue we are focussing on. A display in the hall builds up over the weeks helping us to make links between Bible stories and pieces of scripture.
Morning Prayer
O my God you love me, you are with me night and day.
I want to love you always in all I do and say.
I'll try to please you father, Bless me through the day.
Amen.
Prayer before Dinner
Bless us O lord as we sit together; bless the food we eat today.
bless the hands that made the food; bless those who have no food;
bless us O Lord.
Amen
End of Day Prayer
God our Father I come to say, thank you for your love today.
Thank you for my family and all the friends you give to me.
Guard me in the dark of night and in the morning send your light.
Amen.
At least once a week a small group of children in each class will plan and lead a worship for their own class. The younger children are supported by the staff but as they grow in both confidence and skill they become independent in doing this
Our new school year began with Masses for the different groups across the school. It was a wonderful opportunity to mark the start of the year as a community and offer prayers as we worship together.
Father Michael spoke to us about how we need to remember to love each other and be kind as part of our community. As always we will be trying hard every day to do just that!
Father blessed the beads that represent each one of us kept within our heart bowl which represents our school. Just as the heart bowl keeps the beads safe our school keeps us safe.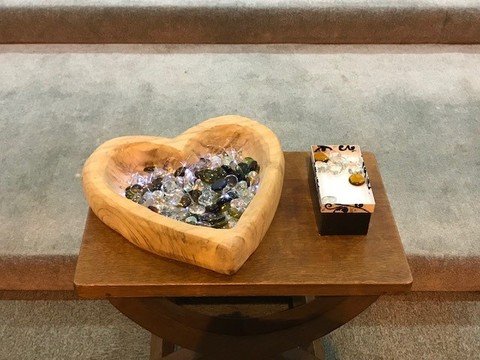 In November we reflected on the feasts of All Saints and Holy Souls and prayed for all those who have died. We observed the 2 minutes silence on the 11th of November and prayed for those who have lost their lives in service defending our freedom. We built our Wall of Remembrance in school, filling it with poppies with the names of our loved ones who have died.
Eternal rest, grant unto them O Lord
and let perpetual light shine upon them.
May they rest in peace.
Amen.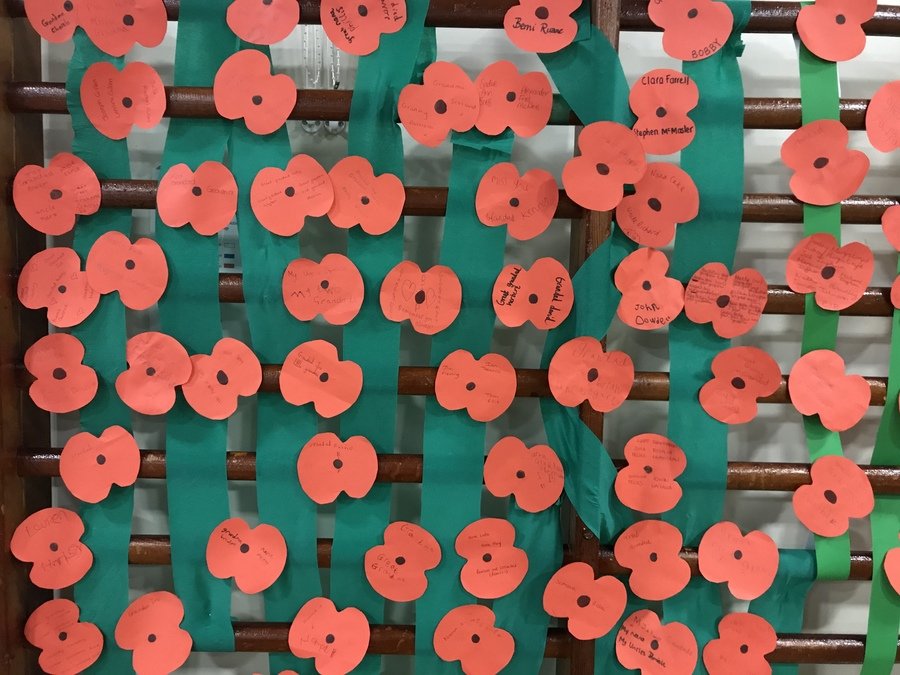 At the need of November we entered into the season of Advent.
We prepared our Advent wreaths for class and then each week we lit another candle representing peace, hope, joy and love.
we reflected on what this means for us in our daily lives at school and at home.
Our Spring term presented us with many challenges as we went into lockdown after the very first day back at school. We still stayed connected and worshipped together online and on the webpages too!
February 2nd was the Feast of Candlemas and the Presentation in the Temple.
We learned about the meaning of the Christingle and even made our own at home!