As a worshipping community, we actively encourage our families to worship together at home. We have a programme of school- home worship which reflects the Liturgical Year and supports our parents/carers in worshipping with their children at home.
The feedback from both parents and children is always very positive!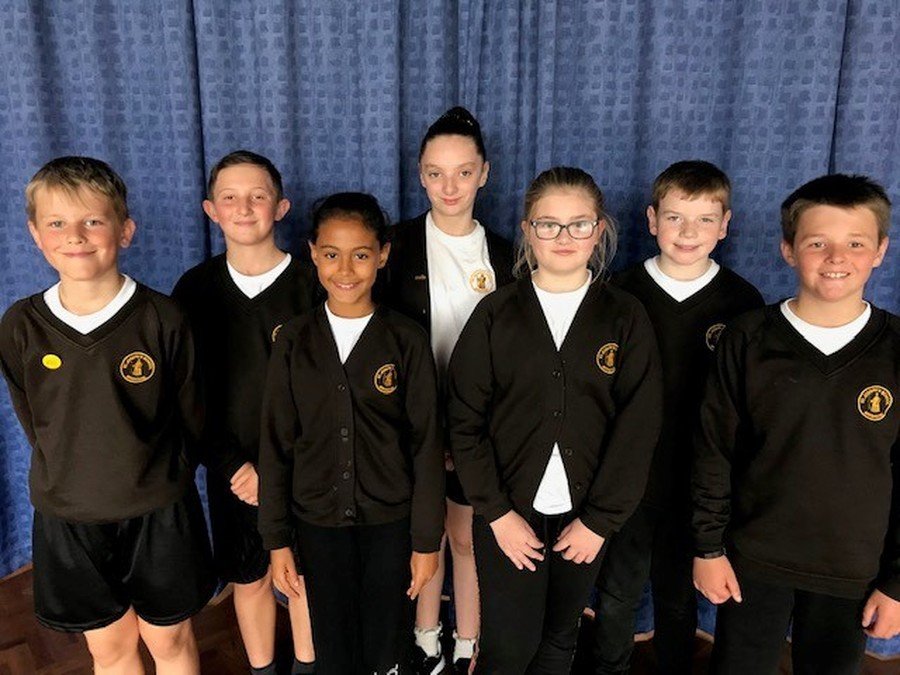 Here is our Worship team. They are Year 6 students who are following the Faith in Action programme and will be helping to plan and organize all our Masses and Liturgies this year as well as other aspects of the Catholic Life of our school! We know they will do a great job! Watch this space for what they do!
During the Autumn term we celebrate our Harvest Festival. Our Worship Team helped to plan and lead this but also spoke at church, inviting the parishioners to join us and nominate any people in need of a harvest hamper from school.
The food hampers that we made up from the donations sent in by our families went to the elderly and housebound of the parish and local community as well as the Food Bank in Brighouse.
We come together for Mass at different times of the year. Mass is celebrated by Father Michael in school although groups of children make the walk to church too to celebrate Mass there.
We have a group of children who are trained altar servers and serve in both school and the parish. We also have members of staff who are Eucharistic ministers in church and serve in school Masses too.
On the last day of the Autumn Term as part of our Advent preparations we gathered together around the tree and lit lots of candles to create a calm and peaceful atmosphere.
We sang carols and listened to prayers and some of our Faith in Action group lit the candles on the Advent wreath - all to remind us about the true meaning of Christmas.
Asa we gather, we are also reminded what a wonderful family we are!
Our new school year began with Mass. It was a wonderful opportunity to mark the start of the year as a community and lovely to be joined by parents, grandparents and parishioners.
Father Michael spoke to us about how we need to remember to love each other and be kind as part of that community. As always we will be trying hard every day to do just that!
Father blessed the beads that represent each one of us kept within our heart bowl which represents our school. Just as the heart bowl keeps the beads safe our school keeps us safe.
Our school staff also come together regularly in worship. At the start of each school year we hold a special Commissioning Service in church for staff and governors. We pray together and reflect together and ask for God's blessing as we strive to achieve the very best for each of our children and our school. New members of staff or governors also place a bead in our heart bowl, reaffirming their commitment to the life of our school.
During the month of October our Worship Team are leading us in Voluntary prayer. We gather at the start of break to say a decade of the rosary together. How lovely to be still and come together in prayer in this way.
We say one Our Father, 10 Hail Marys and one Glory Be. Why don't you say a decade of your own. Who will you pray for?
ADVENT
In the church's season of Advent we are reflecting on the meaning of this very important time. We are focusing on our preparation leading up to Jesus' birthday on Christmas Day.
Our school and class Advent wreaths help us count down the days until we can celebrate His coming!
Our Faith in Action Team and our choir led the singing at the first parish Mass of Advent, supported by many other children from school. After communion, Father Michael invited us to explain the Advent wreath to the congregation through song.
Seder Supper 2019
Our Year 5 children led us in a very moving reflection which ended with a short meditation on the events of the Last Supper.
Each day in school begins and ends with a prayer (scroll down for the prayers) and of course we pray at other times of the day too. Reception and KS1 gather, as do KS2, to worship together, This is led by Mrs Hodges our Headteacher, with the support of some of the children. The worship is based around a piece of scripture which may reflect the particular Virtue we are focussing on. A display in the hall builds up over the weeks helping us to make links between Bible stories and pieces of scripture.
Morning Prayer
O my God you love me, you are with me night and day.
I want to love you always in all I do and say.
I'll try to please you father, Bless me through the day.
Amen.
Prayer before Dinner
Bless us O lord as we sit together; bless the food we eat today.
bless the hands that made the food; bless those who have no food;
bless us O Lord.
Amen
End of Day Prayer
God our Father I come to say, thank you for your love today.
Thank you for my family and all the friends you give to me.
Guard me in the dark of night and in the morning send your light.
Amen.
At least once a week a small group of children in each class will plan and lead a worship for their own class. The younger children are supported by the staff but as they grow in both confidence and skill they become independent in doing this
In November we create a Wall of Remembrance in school.
Our families contribute to this and their prayer petitions are displayed in school.
Some of our children represent our school at the local cenotaph for the community Remembrance Service too. We lay a wreath on behalf of the school and observe the silence together.
Ampleforth 2019
Our Year 5 children had a wonderful experience on their spiritual retreat at Ampleforth College. They spent 3 days and 2 nights there. They really appreciated the time together to reflect and to pray. The theme of their retreat was
'There is Only One You!'
They explored how they we are all unique.
May Devotion 2019
We always celebrate the month of May with a special devotion to our Blessed Lady Mary. This year we processed from the grounds into school, singing a hymn of praise to her. We placed flowers on the altar and listened to readings and prayers. it was very special.