As a worshipping community, we actively encourage our families to worship together at home. We have a programme of school- home worship which reflects the Liturgical Year supporting our parents/carers in worshipping with their children at home.
The feedback from both parents and children is always very positive!
We focus on different virtues each term as part of our Character Education which is supported by our Leader in Me programme.
You can find out more about the Virtues we study by clicking on the Virtues tab in Catholic Life.
All the Virtues underpin our worship throughout the school year which of course is linked to the Liturgical year!
Scroll down to see the kinds of things we do each term!
Our new academy year begins with Mass for the whole school family. It is a wonderful opportunity to mark the start of the year as a community as we worship together.
Each class came into the hall during the first week and shared a worship together. During the worship they each placed a coloured ribbon on the tree to represent an individual prayer for the year. Every time they see the tree they will remember their prayer.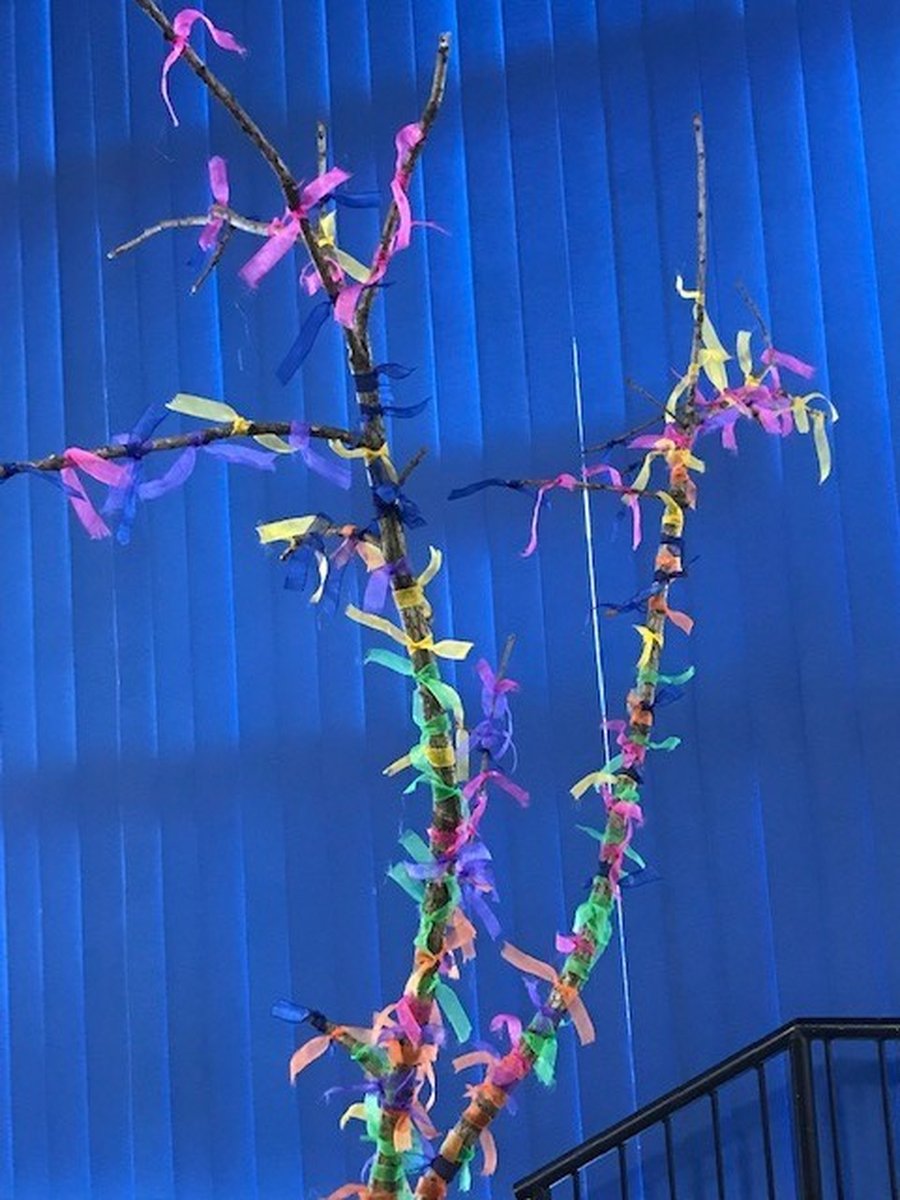 Our Staff and Governors come together each September to worship together and pray for the school year ahead. We light candles and promise to try and bring the light of Christ in our lives every day.
During the month of October we hold voluntary rosary at break time led by our Year 6 children, where we gather to say a decade of the rosary together. We also take home the rosary worship bag so we can pray a decade of the rosary with our families at home.
We held our Harvest Festival and collected lots of tins and packets of food for the needy and housebound of our parish. This is a wonderful opportunity for our community to come together to show our support for those in need.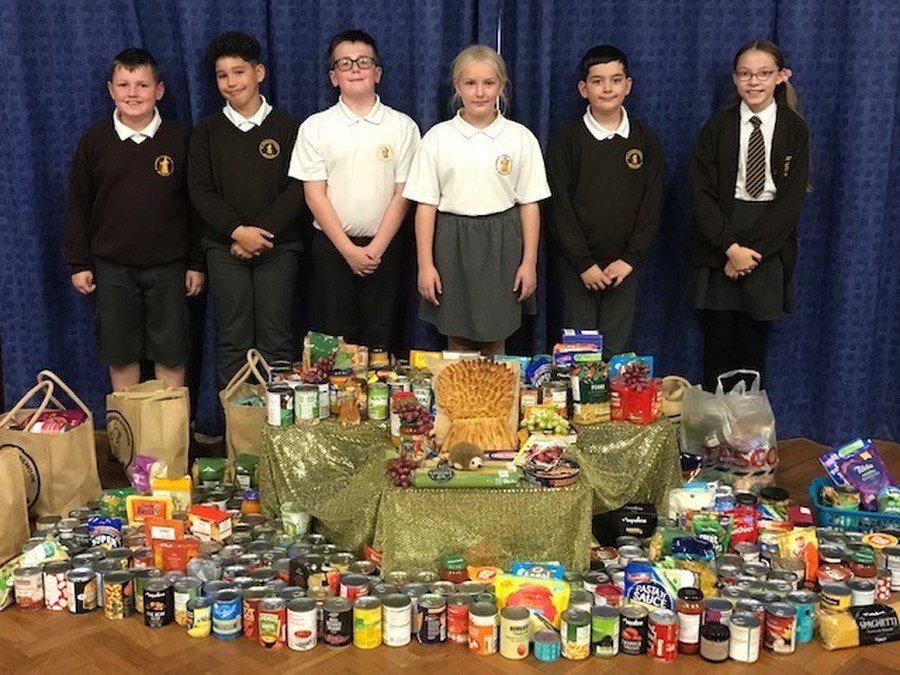 During the month of November we created a Wall of Remembrance and collected prayer petitions from staff and our families for loved ones who had died. We also remembered those who had died giving their lives in service. We offered our prayers for them all.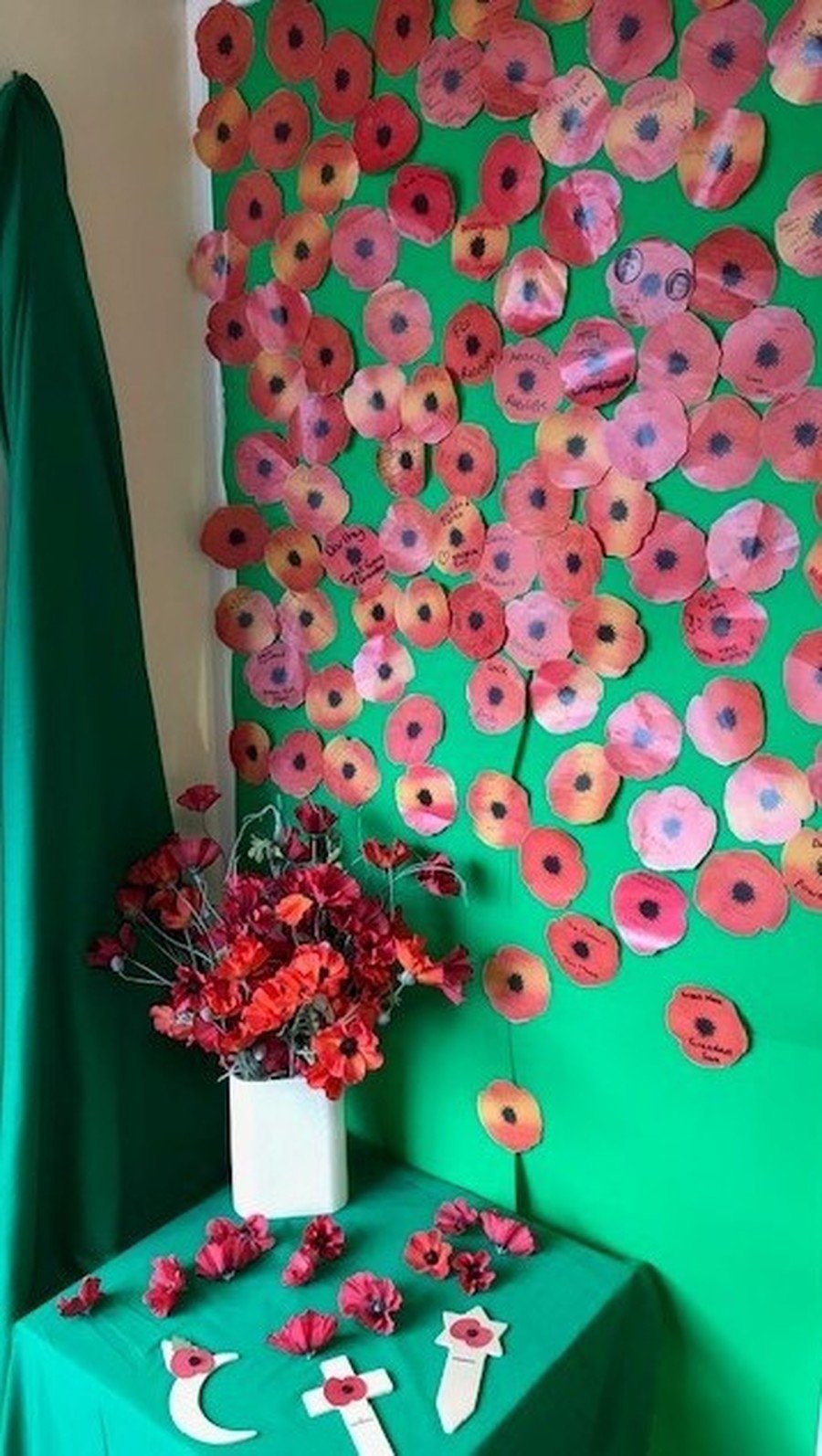 We began the season of Advent with a special parish Mass. Our school choir sang and one of our children lit the first purple candle on both the church and school Advent wreaths. Each class in school has their own wreath and we gathered together to bless them and reflect on the season ahead.
Our Travelling Cribs went home to all our families to provide an opportunity to worship together and reflect on the Nativity at home.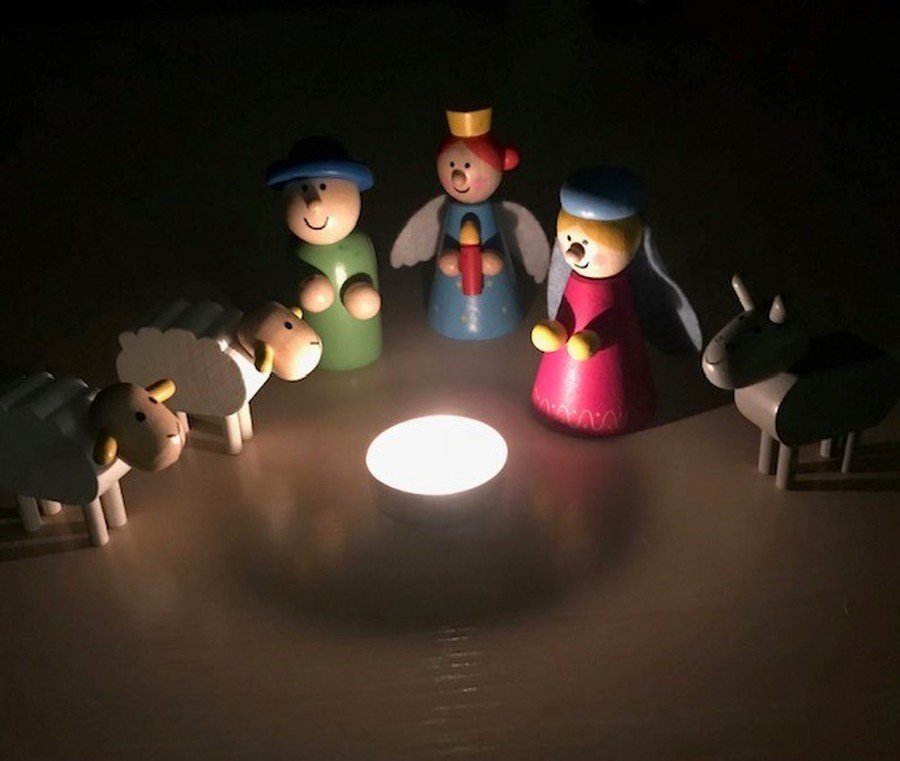 We held a School and Parish Carol Service in the school grounds with readings and carols. We all had candles light up the night and our school choir sang too. It was very well attended and was a very special event.
Our Autumn Term finished with whole school Mass in the morning on the last day followed by Carols Around the Tree, which has become one of our Advent traditions. it was a wonderful way to end the term and as part of our continued preparations for Jesus' birthday at Christmas.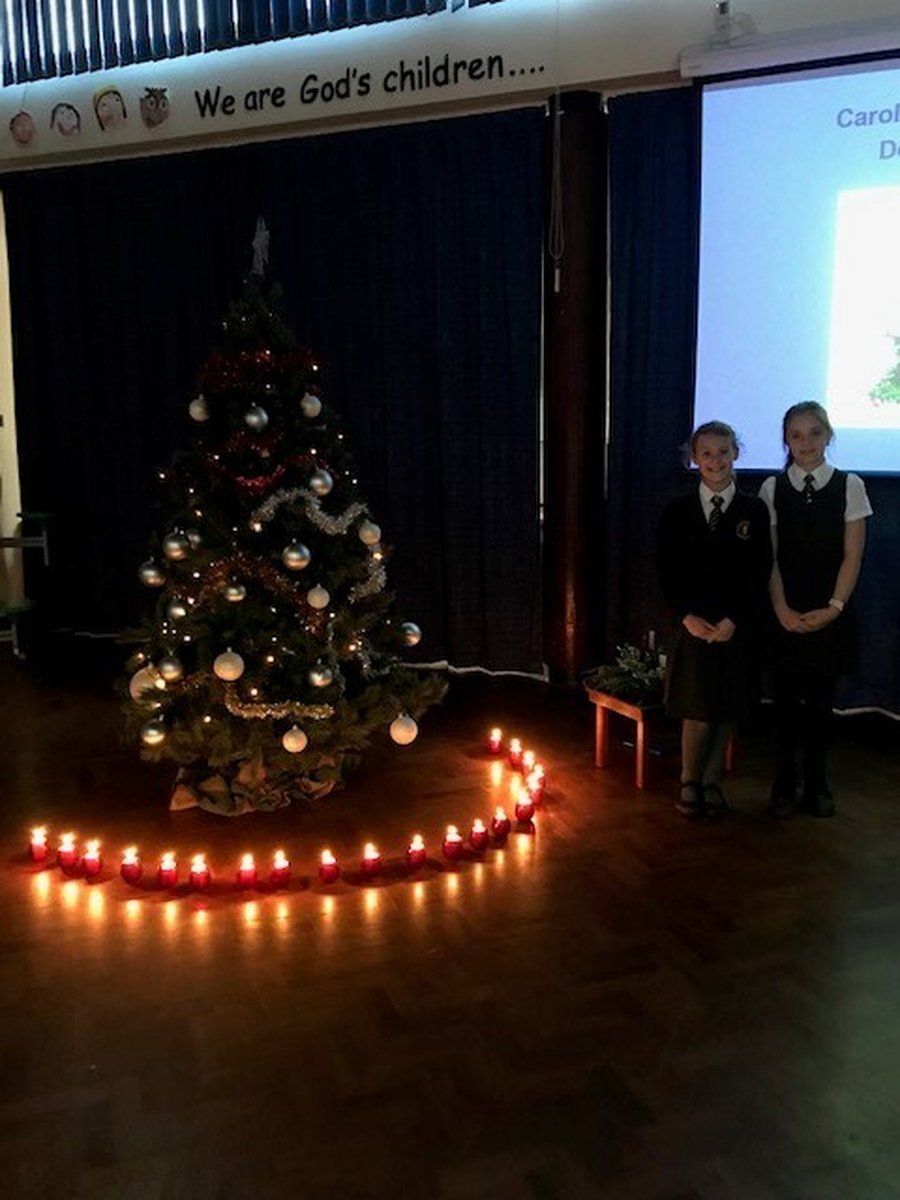 Each day in school begins and ends with a prayer (see opposite) and of course we pray at other times of the day too. Reception and KS1 gather, as do KS2, to worship together, This is led by Mrs Hodges our Headteacher, with the support of some of the children. The worship is based around a piece of scripture which reflects the particular Virtue we are focussing on. A display in the hall builds up over the weeks helping us to make links between Bible stories and pieces of scripture.
At least once a week a small group of children in each class will plan and lead a worship for their own class. The younger children are supported by the staff but as they grow in both confidence and skill they become independent in doing this. Their class worship reflects and reinforces the Virtue we are focusing on as an academy.
As we returned to school at the start of the Spring term it was the feast of the Epiphany. We celebreated this feast day with whole school Mass celebrated for us by Father Michael.
We began preparations for our Christingle Liturgy, which we always hold on, or close to, the feast of the Presentation of Jesus in the Temple. Our Worship Team gathered all the resources and shared them out among all the classes so all the children could make a chritsngle to take home.
Our Christingle Liturgy was held in the hall and we all gathered to reflect on Jesus being presented in the temple by Mary and Joseph and how He is for us the Light of the World.
We worshipped together listening to readings, offering prayers and singing hymns. We lit the candles on the Year 6 christingles and prayed for a few moments in silence.
We will try and be the light for others as we live out our Mission.
As we prepare for the beginning of Lent, our Gardening Club created an Easter Garden for display in the hall to support us in our reflection and prayer liturgy.
Our Worship team prepared the school to home worship bags for Lent and then took them around the classes. We will collect the family crosses enclosed for our community display in school.
Our choir sang in Brighouse at a special service for the people of Ukraine. Some of our other children also attended with their parents and grandparents and many members of the local community. We also read some of the prayers we had written in school.
We were very excited to celebrate the Feast Day of our Patron Saints, St Joseph! This year was extra special because it was our school's Diamond Jubilee marking 60 years of our school on our current site.
We began the day with Mass, celebrated for us by Father Michael. It was wonderful to have so many parents and carers, governors, parishioners and some staff who used work here, joining us! The whole Mass was both celebratory and a bit emotional too!
Father Michael gave a great homily on the special job that Joseph had to do as foster father to Jesus in addition to being a carpenter. He reminded us that we all have skills and talents like Joseph did and should use them well and wisely!
We had also brainstormed ideas for what could go into our Diamond Jubilee Time Capsule and the staff and children came up with fabulous ideas such as: coins, news of the day, reflections on school, a whole school photograph, a bead to represent the beads in the basket and a silver ribbon to represent the prayer tree, photos of the school grounds and some classrooms and lots more. The time capsule was full to bursting!
We buried it and also planted a gardenia the PTSC had bought for the occasion - called 'Double Diamond'! How wonderful!
Father Michael then blessed the time capsule and plant as well as all of us.
We gave thanks and sang a rousing chorus of our school hymn to St Joseph. It was a special time.
Our Year 6 class led us in a Stations of the Cross Prayer Liturgy which was well attended by parents, carers and parishioners too. The children used the Easter Garden the gardening club had created and added 14 lit candles to it - one for each station. As a prayer and reflection for each station was read and silent time was given to reflect, a candle was extinguished until the hall was left in darkness. It was a very a moving prayer liturgy.
Morning Prayer
O my God you love me, you are with me night and day.
I want to love you always in all I do and say.
I'll try to please you Father,
Bless me through the day. Amen.
Prayer before Dinner
Bless us O Lord as we sit together; bless the food we eat today.
Bless the hands that made the food; bless those who have no food;
Bless us O Lord. Amen
End of Day Prayer
God our Father I come to say, thank you for your love today.
Thank you for my family and all the friends you give to me.
Guard me in the dark of night and in the morning send your light. Amen.
Our Summer term got off to a wonderful start with preparations for and the celebration of our May Devotion.
Led by our Worship Team for this half term, it was a wonderful prayer liturgy with scripture readings, prayers, hymns and poetry, all in praise of Our Blessed Lady Mary.
The Devotion began with a wonderful procession of flowers to dress the altar and one of our First Holy Communion children crowned the statue as we sang.
Our May Worship Bags were sent out and gave the children and their families a chance to reflect on Mary Our Mother. The families enjoyed having this opportunity to worship together at home.
Some of our children from across the classes represented our school at the parish May Devotion. They processed to the altar with flowers and some of our children read during the Mass.