Supporting Catholic Care
We have been working closely with Eileen, our Catholic Care Worker, to organise Christmas presents for children in our Diocese of Leeds who are in need.
We asked all our children and parents/carers to donate a gift for a boy or girl that would make Christmas extra special for them.
As usual our parents/carers have been tremendous and the gifts came pouring in!
What a wonderful gift we are giving this Christmas - the gift of love!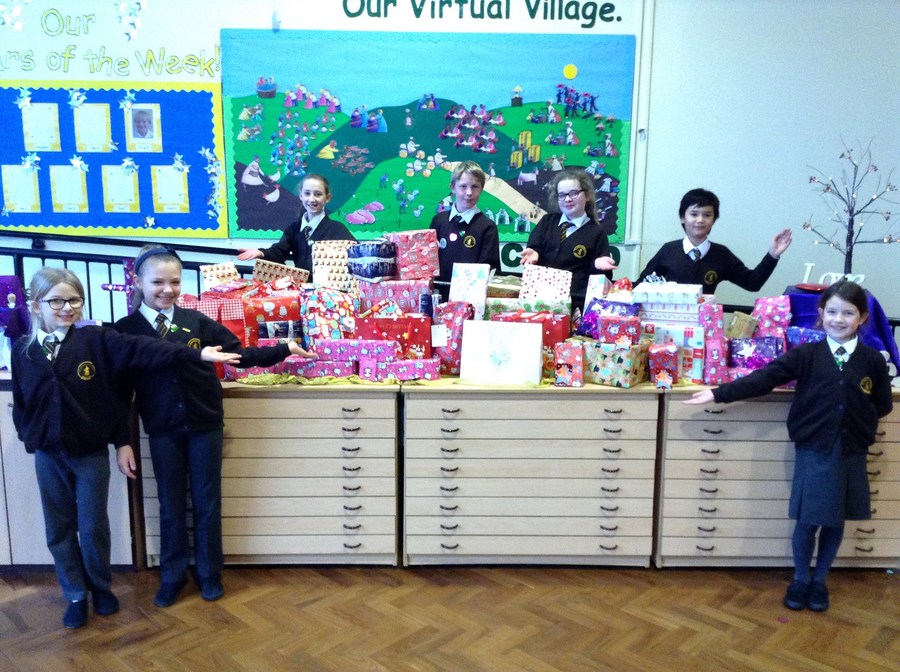 Gianna Project
The Diocese of Leeds has a special project called the 'Gianna Project' which was set up by the previous Bishop of the Diocese, Bishop Arthur Roche.
The project collects donations of all the things a baby needs: wipes, bottles, bibs, clothes, high chairs, prams, dummies, rattles, toys, cribs, blankets, mittens etc.
The items are taken to the Leeds where the Gianna headquarters are. They are washed and sorted ready for when they are needed......and they are very much needed.
The items are given to young families and families in need who cannot provide their baby with all the above mentioned things - and more - that a baby should have.
We started collecting at Christmas two years ago but the children quite rightly said that babies are not just born at Christmas and we should keep the collection going all year round - so that is what we do!
We have a small basket in the main entrance for donations from parents/carers/parishioners are always very generous.
We ask that the donated items are either new or second hand - but if they are second hand they must be in good condition and clean.
Once the basket is full the items are either taken to, or collected by, Catholic Care ready for the families who need them.
Last year I had the chance to see the good work of the project in action. I took a car load of items donated by our generous parents/carers. One item was a pram. As we arrived at the door a Catholic Care Worker met us to say that she had a family in desperate need of just such a thing! The pram went from my car to her car and straight to the family - and baby - who needed it! Fantastic!
Mrs Hodges