Good Shepherd Appeal
Initiated by Bishop Cowgill in 1911 and now running every Lent for over 100 years, this appeal involves the children and students of the diocesan schools working together to organise a wide range of fundraising events. The appeal culminates in Leeds Cathedral, when representatives from the schools give what they've raised to the bishop. It's always a joyful occasion. Our heartfelt thanks go out to all who are so generous with their time, energy and enthusiasm – and of course for the money they raise, which helps to make a difference to the lives of so many.
Thank you to everyone who played bingo this Lent. We raised a grand total of:
£175
Food for the Needy of the Parish and Local Area
As part of our community links we have a basket in the Main Entrance in which we collect donations of food (tins, packets, sauces, tea bags, coffee, biscuits etc). Once a week a member of staff takes the food to the SVP (St Vincent de Paul group) in our parish. In turn, the SVP work with the local Salvation Army to sort the food and take it to those people/families they know need it.
This is a wonderful thing and our children and their families are very supportive!
We just ask our children and their families to check that the food is in date before donating it.
Food donations for diabetics are welcome too!
We will continue to fundraise for the Good Shepherd, which supports the work of Catholic Care. Catholic Care in turns supports the neediest of families in our Diocese of Leeds.
Each school year we work hard to raise important funds for different charities and organisations on a local, national and international level. We hold an annual Coffee Morning for Macmillan Cancer Support every year. We will also respond to any local, national or international incident as we have done in the past.
We couldn't raise the tremendous amounts we do without the continued support and generosity of our parents, carers and academy family!
Supporting the Local and Wider Community.
We know that it is our duty as good human beings to try and help those less fortunate than ourselves in whatever way we can. In our academy we do this in many ways, including through lots of fundraising for good causes through the year.
Every little help and we must remember that while it is not always possible to do great things we can do many small things in great ways.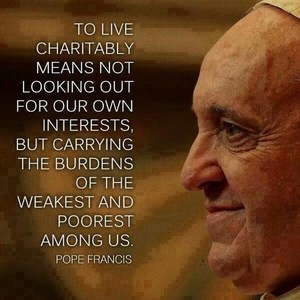 Fundraising for Charity
Each class has chosen a charity to support through the year and they will organise events, uploading updates on their class webpages. Do have a look!
Nursery - Forget Me Not Children's Charity
Reception - Forget Me Not Children's Charity
Year 1 - Guide Dogs for the Blind
Year 2 - RSPCA
Year 3 - CAFOD
Year 4 - Mary's Meals
Year 5 - Shelter
Year 6 - Yorkshire Air Ambulance
Supporting the Gianna Project
The Diocese of Leeds has a special project called the 'Gianna Project'. The project collects donations of all the things a baby needs: wipes, bottles, bibs, clothes, high chairs, prams, dummies, rattles, toys, cribs, blankets, mittens etc.
The items are taken to the Leeds where the Gianna headquarters are. They are washed and sorted ready for when they are needed......and they are very much needed.
The items are given to young families and families in need who cannot provide their baby with all the above mentioned things - and more - that a baby should have.
We have a small basket in the main entrance for donations from parents/carers/parishioners which are always very much appreciated!
We ask that the donated items are either new or second hand - but if they are second hand they must be in good condition and clean.
Once the basket is full the items are either taken to, or collected by, Catholic Care ready for the families who need them.
I have had the chance to see the good work of the project in action. I took a car load of items donated by our generous parents/carers. One item was a pram. As we arrived at the door a Catholic Care Worker met us to say that she had a family in desperate need of just such a thing! The pram went from my car to her car and straight to the family - and baby - who needed it! Fantastic!
Mrs Hodges