Choir
We have a very successful choir in school that has built up a superb reputation within the local community. We are regularly asked to sing at Brighouse Community Events and participate in local and Calderdale wide competitions. We have won lots of competitions and the children enjoy taking part.
We rehearse in school each Monday 3.30-4.45pm
Events Autumn 2016
We had a great time entertaining the visitors to the Brighouse Victorian Market with our repertoire of Christmas carols and songs. We received huge applause!
We also sang in church for the first Mass of Advent and for the elderly and housebound at their Christmas Party.
Monday 30th November - Performance at Kershaw's Garden Centre - 3.30pm
We walked to the Kershaws Garden Centre from school and gathered among the twinkly lights and Christmas trees to entertain the shoppers. It felt very festive and the choir were amazing again, singing in parts and in wonderfully harmony! Well done to them all!
Saturday 28th November - singing at the Victorian Christmas Market in Brighouse!
We gathered to sing at the Christmas Market event, adorned in our tinsel and Christmas hats and sang and sang until the rain had soaked us completely through! (Mrs Bedford could hardly feel her fingers to play the guitar it was so cold!)
Thank you SO much to all the choir members for being so brilliant and singing so wonderfully, even though the weather was terrible, and to all our stalwart supporters for braving the weather to come and cheer us on!
We took part in a local choir event in March 2015 and the local church schools family all took part. We were awarded a 'highly commended' certificate for our performances! Well done everyone!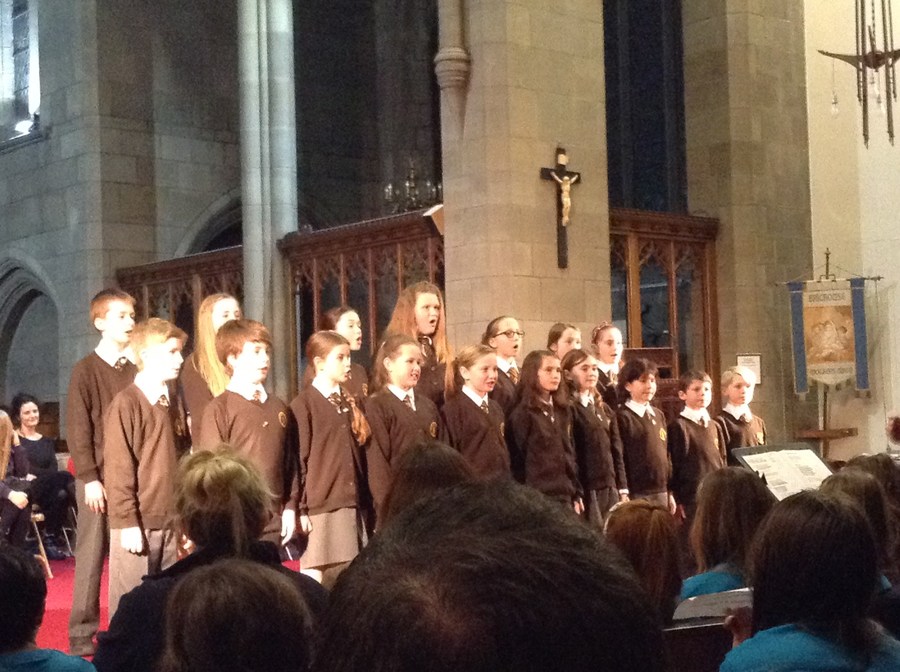 The choir also sing at Mass and other school events.
We sang at the School-Parish Carol Service in December and really enjoyed singing for, and with, the congregation!
_______
Rehearsing in church and singing at Brighouse Christmas Market! Nov 2014
Singing at Kershaw's Garden Centre for the local community and for the lighting of the Brighouse Juniors Football Club Christmas Tree in the local area.