Forthcoming Events... Fri 29th June Mass at 9.30 am Feast of St Peter and St Paul Sat 30th June Annual Football and Netball Tournament Fri 20th July End of Year Disco Tues 24th July Sports Afternoon Thurs 26th July School Closes for Summer holidays
Our Teacher is
Mrs Bonner
Our Teaching Assistant is
Mrs Brook
This half term our theme is
'Time Traveller'
We will be learning about the changes that have taken place throughout the decades and we also carry out a study of local history.
Retreat - reflection sessions
The theme of our retreat was 'Only One You' - we spent some quiet time reflecting on the special gifts we have been given by God that make us who we are and how we can use these to be a light to others. We created an indivdiual canvas to represent our 'uniqueness' and were delighted to receive letters from our parents about what makes us special.
We have enjoyed learning to play an Irish Jig on the ukuleles. This piece was accompanied by the 'bodhran' which is an Irish frame drum.
We have begun our 'Stargazers' theme with a look at the abstract art work of Peter Thorpe. Much of his work is based on space and we used some of his paintings to inspire our own abstract painting of space.
We had a fantastic time learning all about the Ancient Egyptian ritual of mummification.
Our learning was brought to life as we assisted in the embalming of the body of Ani and then re-enacted an Ancient Egyptian funeral and burial.
Charanga Music
This term we have learnt to sing and accompany Adele's 'Make You Feel My Love'
Victorian Inventions Workshop
Stephenson's Rocket
We learnt alot about the development of steam engines and the Rainhill Trials where Stephenson's Rocket was first seen.
We had great fun competing in our own competition to pump an air powered model of Stephenson's Rocket around the track in the fastest time.
Ukulele Lessons
Mr Eady teaches us to play the ukulele every Monday.
We have composed our own song about 'Friendship' - have a listen!
We worked as scientists to investigate if substances were acid or alkaine.
We added red cabbage indictaor to each one to see what colour it became.
Red/Pink/Orange = acid
Blue/Green = alkaline
Purple = neutral
PE is on Wednesday
This half term we are developing our skills in
Striking and Fielding
Our RE Topic is
'Life in the Risen Lord'
We celebrated special liturgies together in which we listened to the Word of God and reflected on what this means to us and how we can use this in our daily lives. We offered thanks for the many wonderful gifts he has given us.
We received our own candle to take away with us with a very special message...
'Nothing can dim the light that shines from within'
To support our learning about living things and their lifecycles we were given 10 eggs in an incubator. We watched and waited eagerly for the eggs to hatch and were delighted when 7 of them did!
We enjoyed caring for the chicks and as you can see we they recieved a lot of love!Our chicks were Fluffy, Bobo, Rosie, Charlie, Popcorn, Cookie and Chickadoodle.
Victorian Inventions Workshop
Photography
We enjoyed learning about the development of photography and handling some of the early camera inventions.
We had alot of fun dressing up in Victorian clothing and having our photograph taken through an 1880 lens.
Our Visit to Armely Mills
What an experience we had as school children and mill workers.
Our Visit to Catalyst Science Discovery Centre
We had a great time working as scientists for the day.
We learnt all about the properties of plastic and made our own keyrings by heating and moulding the plastic.
We spent time in the science lab investigating the effects of mixing materials together.
As Geographers we have studied contour lines on maps and looked at what this tells us about the land.
We created our own contour lines and created models of these using different coloured card to show the different heights of the land above sea level.
Homework is set every Friday
Maths and English will be sent out alternately on a Friday.
We also ask that you spend some time each evening reading and practising spellings and learn its.
Class Worship
Each week we plan a worship to share as a class.
We read from the Bible, listen to songs and spend sometime reflecting on what we have heard.
We had a fabulous time on retreat at Ampleforth Abbey!
Beautiful surroundings, glorious weather and fantatsic friends (not to mention the delicious food!) made for a very special time together.
There was so much fun to be had - rolling down the hills, climbing trees, a nature walk and the many games that we played. There was lots of fun and laugther - especially when watching each other attempt the After Eight challenge!
Many happy memories were made!
We enjoyed two sessions with the Better Living Team. In session one we learnt some Yoga skills and in the second session we learnt all about the importance of exercise.
Mrs Woodhead and Mrs Barker from CAFOD visited school to help us learn about the Gifts of the Holy Spirit.
We went on pilgrimage together, where we spent time reflecting on each of the gifts and praying together.
We then focussed on the gift of 'Piety' and produce some work showing what this gift means. This work was then displayed along with work from the other Catholic schools in Calderdale and travelled to each parish - it was in our St Joseph's Parish on 21st and 22nd April.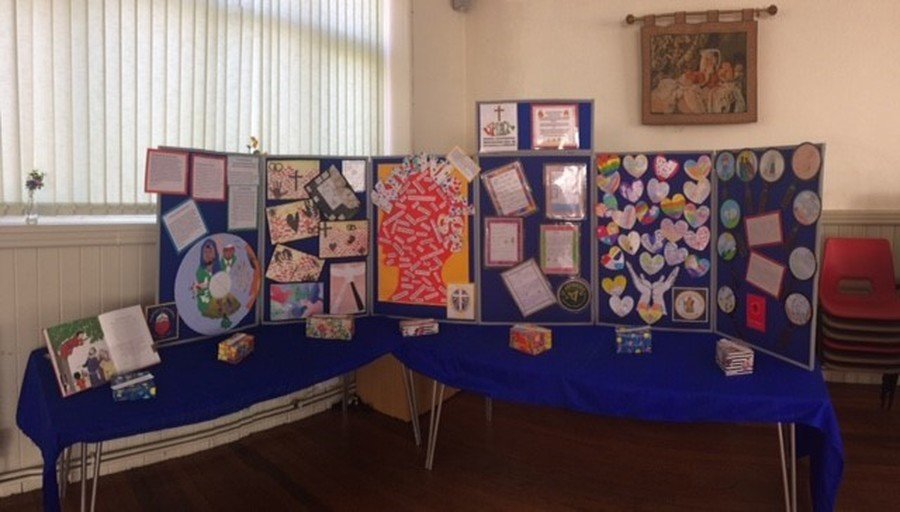 Victorian Inventions Workshop
The Phonograph
We learnt about Thomas Edison and his invention of the phonograph - whihc enabled people to record sound for the very first time.
We enjoyed listening to music on the phonograph and creating our own music strips to play.
Christmas Craft Afternoon
We had a fabulous time with parents and grandparents making a variety of Christmas crafts.
Music Workshop
We enjoyed learning about music from around the world and then using a variety of instruments to create a 'Mexcian Salsa'
We have enjoyed learning to sing and accompany 'Living on a Prayer'
A few future rockstars in the making!