Fundraising and other Good Works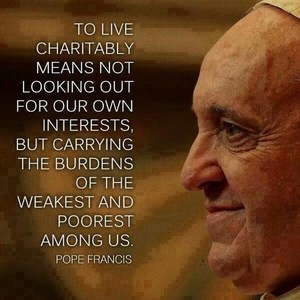 We will continue to fundraise for the Good Shepherd, which supports the work of Catholic Care. Catholic Care in turns supports the neediest of families in our Diocese of Leeds but, in response to the terrible refugee situation we collected donations of clothes, waterproof and non-food items to help them.
We delivered over 200 bags of donations! Fantastic!!!
Each school year we work hard to raise important funds for different charities and organisations on a local, national and international level. Our children often instigate a fundraiser themselves in response to something in their own lives or within their interests eg: RSPCA or NSPCC, and the school supports them in this.
We couldn't raise the tremendous amounts we do without the continued support and generosity of our parents, carers and school family!
We will continue to update this page with our efforts during as the bun sales, raffles and other initiatives take place!
Local charities we will be supporting include:
Forget-Me-Not children's charity

Leeds Heart Foundation

Good Shepherd - Catholic Care - £500

BASH - Brighouse and Surrounding Homeless - we collect donations of food and other carer packages to support their work
National charities we will be supporting include:
Red Nose Day

(click here for photos)

Comic Relief/Sport Relief

Children in Need

Macmillan Cancer Support 2016 -

£405.87 raised from our coffee morning and bun sales! Well done everyone!

NSPCC Number Challenge 2017 -

£307.25
The International charity we will be supporting again this year as a whole school is CAFOD - see the CAFOD page in the Catholic Life of our School tab.
We will also respond to any local, national or international incident as we have done in the past such the tragic tsunami and earthquake disasters.