Lampedusa Project
Our Year 5 children took part in a special project linking our Calderdale Catholic Primary schools together. The children listened to the story of the Lampedusa Cross and were very moved by it. They carried out some work in response to the workshop as did some of the children in the other schools. All the work was collected together and displayed in the parishes for all to see. The whole school shared in the story too. Read it below.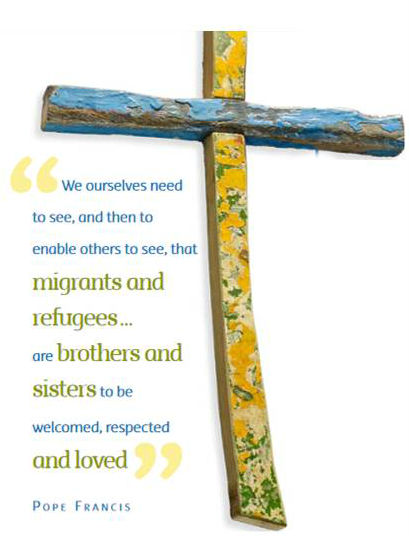 Francesco Tuccio was at Mass in his local church and among the congregation were bedraggled groups of newly arrived Eritrean migrants, weeping for loved ones who had drowned during the Mediterranean crossing.
After the service Lampedusa's carpenter went to the beach and began collecting the blistered, brightly coloured driftwood from the wreckage of migrant boats that had washed up on Lampedusa's shores.
Alone in his workshop, Francesco carved crosses from the timber, shivering at the wood's strange touch which he said made him think of holy relics and which smelt "of salt, sea and suffering".
He asked his parish priest to display a big, rough cross above the altar to remind the congregation of the migrants' desperate plight and he offered every migrant he saw a small cross as a symbol of their rescue and of hope for a new life.
All our Calderdale Catholic Schools took part in producing work for a collective display about the Lampedusa Cross. The display travelled around the whole Deanery and spent a weekend at our own parish church. Some representatives from Year 5 and our Head Girl were on hand to give out information to the parishioners and answer any questions.
St Joseph's Catholic Primary School, Brighouse - St Mary's Catholic Primary School, Halifax - Sacred Heart Primary School, Sowerby Bridge - St Patick's Catholic Primary School, Elland - St Joseph's Catholic Primary School, Halifax, St Malachy's Catholic Primary School, Ovenden